AFK Arena guide on how to 100% clear The Hazy Timberland (Voyage of Wonders)
AFK Arena has released a new realm of Voyage of Wonders called The Hazy Timberland. Compared to the previous one, this chapter is easier and has better rewards. Like usual, please follow the step by step guide below to fully clear The Hazy Timberland and get all the rewards.
The Hazy Timberland Rewards
This Voyage of Wonders realm has the best rewards so far this year. You will get 10 Summon Scrolls and 10 Stargazer Tickets, which are worth 5,000 Diamonds.
The Hazy Timberland – Step By Step Guide
Follow the number below. The final boss is a little difficult to defeat, make sure you spend some time to choose the right relics for your team. It has many Lightbearer enemies, I defeated it easily with Shemira, Luciu, Rowan, Belinda and Rosaline.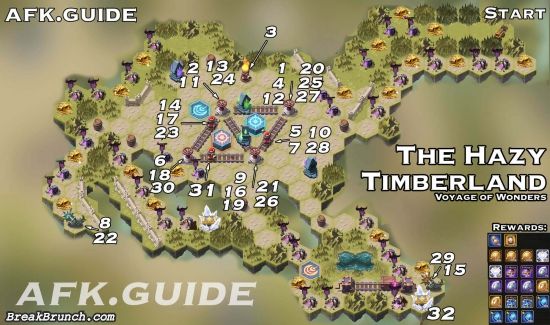 This is all there is to it, have fun playing AFK Arena and good luck summoning.